Do you want to know how you can gauge whether or not you've made it in pop culture? A pornographic film in your honor, that's how.

Hulk Hogan was recently the subject of a pornographic parody produced by 3rd Degree Films that featuring a who's who of the adult film industry's most coveted stars.

Multiple Adult Video Network hall of fame inductees collaborated to pay homage to one of the greatest (if not the greatest) pro wrestling stars of all time, and a WWE hall of famer in his own right.

I would hardly consider myself a porn aficionado. But unlike most men, and some women, I'm willing to admit that I at least have a broad knowledge of the bigger names of this multi-billion dollar business, and I am confident that I could reel off a few dozen more on the fly.

After all, they don't call me Nasty for my lack of general adult film knowledge.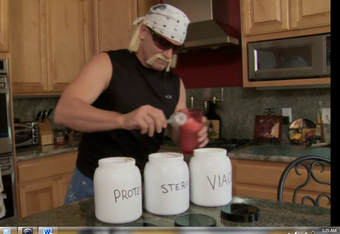 "Hulk Hogan's" comedic concoction of protein, steroids, and Viagra.
The analysis-oriented articles that come with the territory of this site could easily be perceived by the porn brass as judgmental, and few qualities are considered more poisonous to this oft-attacked industry than capriciousness.

So when it was announced that a Fu Manchu-wearing Evan Stone would be starring as the main character in a parody of Hogan Knows Best, my redemption song had concurrently tuned up for its opening act.

If pornography is the lowest form of parody, the Official Hogan Knows Best Parody was that and then some as evidenced by Evan Stone's generalizing, yet semi-poignant, impersonation of Hogan as a self-destructive supplement junkie.

At times, Stone made the otherwise simple and celebrated task of impersonating Hulk Hogan appear difficult.

Stone, who has been in over 1,000 adult films (most of which contain titles that cannot be repeated on this site), jumped right into the slapstick comedic style as his rendition of Hulk Hogan obstinately devoured a concoction of protein, steroids, and Viagra prior to his first love scene with a Kazakh woman.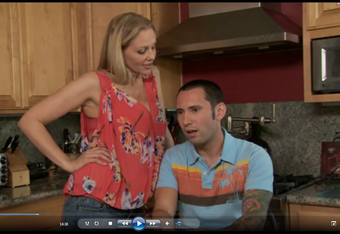 AVN Award Winner Julia Ann as Linda Hogan.
This was the first of two Hulk Hogan love scenes in a two hour film that included a total of five love scenes. Each scene (all male-female) was a marathon of various positions that showcased the woman over the male which is as commonplace in the adult film industry as crummy acting and non-congruent storylines.

Ironically enough, Stone has received notoriety in some pro wrestling circles for his uncanny resemblance to Triple H. Even more ironically, it may be safe to say that Triple H could probably do a better impersonation of Hogan than Stone.

The role of Linda Hogan was played by Stone's fellow hall of famer Julia Ann, who has aged gracefully by perfecting the art of the cougar. Suffice it to say Ann had little trouble getting in character playing Linda Hogan, who in real life married to a man 29 years her junior following an ugly divorce with Hulk.

It's worth noting that there are no love scenes between the procreators of the Hogan family. Instead, the apple of Linda's eye is Link—the creepy, nerdy friend of Nick Hogan.

Some may see the inclusion of a "Nick Hogan's friend" character as tasteless, given the tragic events stemming from Nick's car accident that left his friend John Graziano in a vegetative state and landed Nick in prison for eight months. However, I doubt Third Degree Films had much knowledge about this matter given the generalized format of most porn parodies.

In light of Brooke Hogan inexplicably addressing strange rumors that she and her father were romantically linked, there were no love scenes between the Brooke (played by Kagney Linn Karter) and Hulk characters.

I choose to blame this on the timing of the shooting schedule, and the 3rd Degree Films' lack of "insider knowledge," rather than discretion on the part of the adult film studio.

In summary, this was two hours of mock-geriatric—and at times youthful—debauchery that was noticeably fractured by its own attempt at comedy. The film made productive use of its reality show format, satirizing the Hogan Knows Best reality show that ran from 2005 - 2007, by using confessional style interviews to set up love scenes.

This film could be an easy sell for general adult film fans and maybe even casual wrestling fans. However, given the well-documented train wreck that has become of the Hogan family, the more jaded wrestling crowd may find some of this films' comedic attempts in bad taste and would likely opt to leave it on the shelf where Hogan's wrestling career also belongs.

In the spirit of fantasy football season poking its lucrative head around the corner, I will rate this film as a fantasy football draft pick and deem it Plaxico Burress—a flawed, mid to late-round pick with mild potential and more downside than upside, brother!

We all know how furious Bischoff got when Chyna released her Backdoor to Chyna. I'd love to see his reaction at this.

Source: ThirdDegreeFilms